What is a Cloud ERP for Service Centric Enterprises solution?
Firstly, a Cloud ERP for Service-Centric Enterprises supports the processes of a service organization. On top of that, a Cloud ERP for Service Centric Enterprises provides functionality for financial management, human resource management, order-to-cash, procure to pay and professional service automation, among others. These types of solutions are typically found in professional services organizations but also in industries such as media, telecom and financial services.
In addition to this Magic Quadrant for service providers, Gartner also publishes a Magic Quadrant for so-called Product-Centric Enterprises. These are organizations that produce, sell and/or distribute physical products. We will discuss this Product-Centric Magic Quadrant in this blog.
Which solutions are included in this Magic Quadrant?
Ten solutions are included in this edition of this Magic Quadrant. In order to be included, a solution must meet these three criteria:
The solution must offer all product capabilities defined by Gartner for this category (think: human capital management, financial management).
The solution must be used by at least 150 substantial organizations in
The solution must truly be offered as a cloud service.
Major vendors such as Microsoft, Oracle and SAP are included with more than one solution. Most of the time, this means that there is a true mid-market solution and a solution for large/complex organizations available. The graphical representation of Gartner's quadrant is shown below.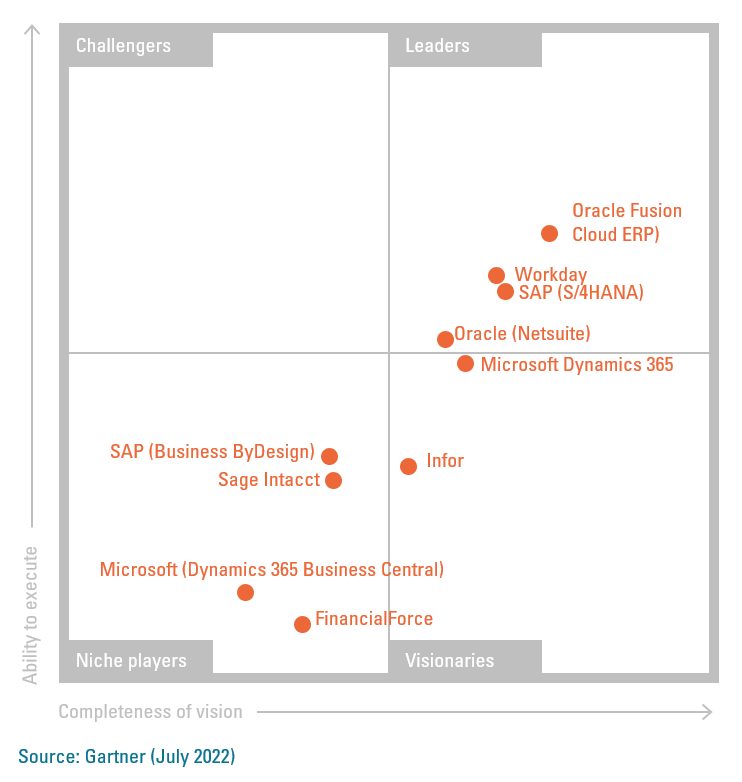 More and more focus on "composable architectures"
Gartner's research shows that more and more organizations are leaning toward so-called "composable architectures". In a composable architecture, an organization chooses to have a number of applications connected to each other rather than one large integrated system. Even organizations that initially want to opt for a single integrated system eventually make the choice for such a composable architecture. Gartner expects that by 2027, 80% of companies will consider using a composable architecture. Organizations should therefore at least keep the idea of composable architecture in the back of their mind when making decisions.
Finance-First for success
According to Gartner's survey, moving to a cloud ERP solution does not always go without a hitch. The implementation of finance components proves to be difficult in particular. Resistance to change is typically high in this target group. Extra effort in change management is therefore necessary. Because implementations in the finance domain are often complex due to regulations, among other things, a finance-first approach is often chosen. Afterwards, areas such as human resources and procurement are addressed.
Integration is key
The success of a new cloud ERP system depends largely on its ability to integrate with existing on-premise and cloud applications. Proper consideration of the right integration strategy is crucial here. Sometimes this requires new skills within the IT organization in addition to the new cloud ERP.
Service-centric Enterprises lead the way
Cloud technology adoption is higher among service-centric enterprises than among product-centric enterprises. This seems to be due to less complex order-to-cash processes, among other things. Gartner expects that 70% of the growth in cloud ERP solutions will come from service-centric enterprises in the coming years.
Want to know more?
Are you considering looking into a new ERP solution? Or would you like to explore the possibilities? Contact us, and we'll be happy to help you get started with no obligation. Want to read the full Gartner report? You can find it here.